ALTA SOFTWARE SHOWCASES TECHNOLOGY ROBOTS AT TECHNOLOGY EXHIBITION EVENT
On October 14th, the Event Technology Exhibition was held for the first time in Ho Chi Minh City. Alta Software, a technology information products and services provider, participated in the event alongside intelligent robotic devices, offering innovative experiences for customers.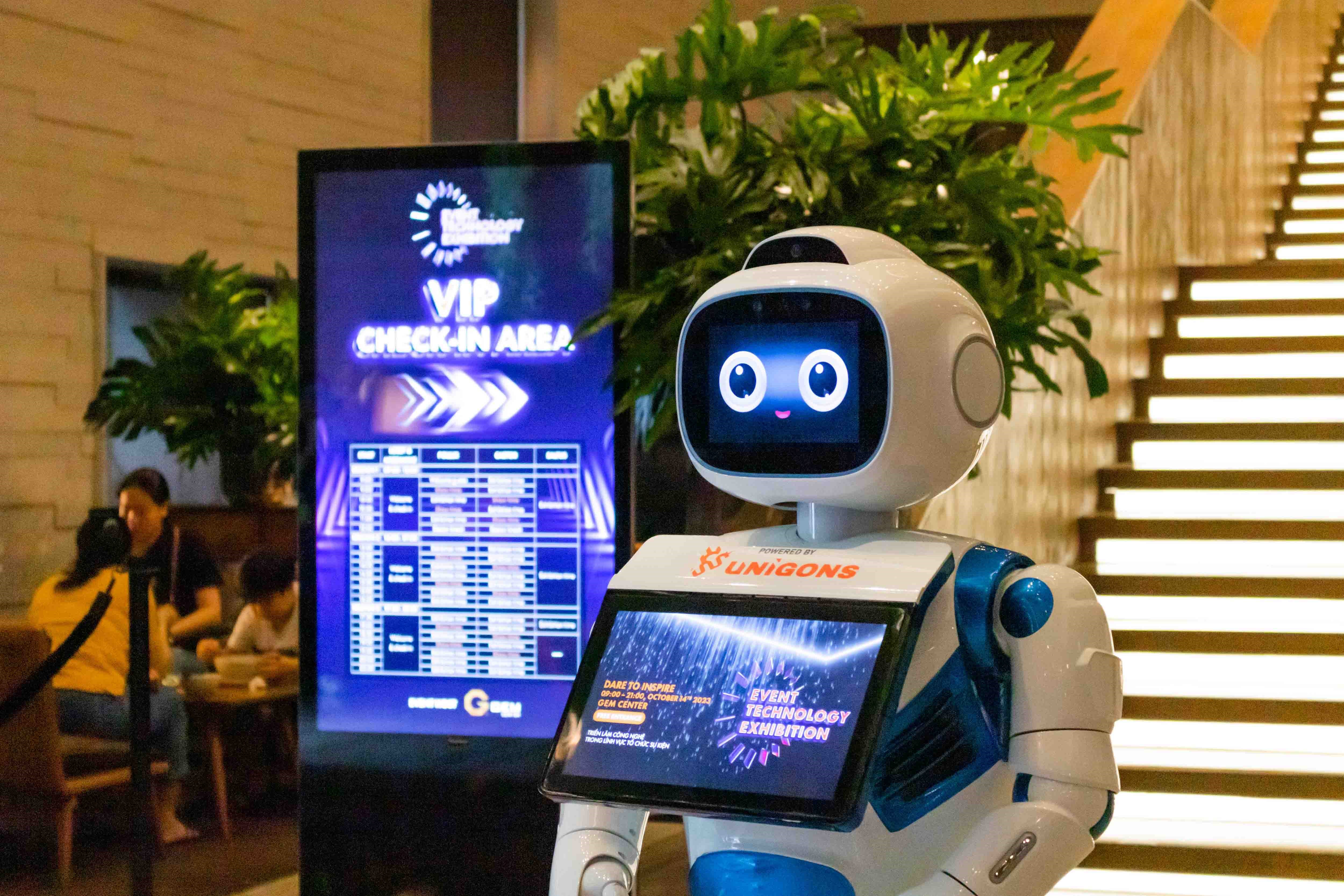 Event Technology Exhibition is a technology exhibition in the field of event organization, bringing together more than 30 businesses to create a grand program. Through this event, technology applications and state-of-the-art equipment will be fully showcased, immersing participants in a virtual world. At the Event Technology Exhibition, Alta Software collaborated with Alta Media to introduce intelligent robotic technology, offering various engaging interactions.
Held at the GEM Center, the exhibition utilized the entire space of the conference center to create a world of cutting-edge technology with the most modern equipment. Spanning over 5,000 square meters, Event Technology Exhibition is divided into three exhibition areas with three themes: "To The Ocean," "To The Cave," and "To The Forest." These themes are interconnected, forming a journey to explore the world of technology.
With the spirit of "Dare To Inspire," Event Technology Exhibition has sparked creative inspiration through modern technology and the latest equipment. For instance, to construct a continuous exploration journey, the program incorporated unique technology solutions such as Projection Mapping, Gauze screens, fog screens, and interactive LED displays…
Furthermore, within the check-in area, attendees found themselves awestruck by a one-of-a-kind technological system and a series of thrilling experiential activities. For instance, Alta Software-programmed tech robots assumed the role of greeting and welcoming guests. These robots were not only visually captivating with their striking design and intelligent functionalities but also served as a magnetic centerpiece, drawing the attention of all in attendance.
Beyond their capability to present information and deliver content in a distinctive manner, these robots seamlessly transitioned into the role of event staff, providing a warm welcome to Event Technology Exhibition attendees. These AI-powered creations, developed and programmed by Alta Software, showcased their versatility.
By utilizing sensors and audio systems, these ingenious robots autonomously recognized faces, initiated friendly greetings, and engaged in human interactions. Fueled by Alta Software's cutting-edge technology, these intelligent robots displayed rapid responsiveness and adaptability, incorporating facial expressions, voice commands, and dynamic movements into their interactions. Furthermore, equipped with sensor devices, Alta Software's tech robots effortlessly detected obstacles and executed evasive maneuvers.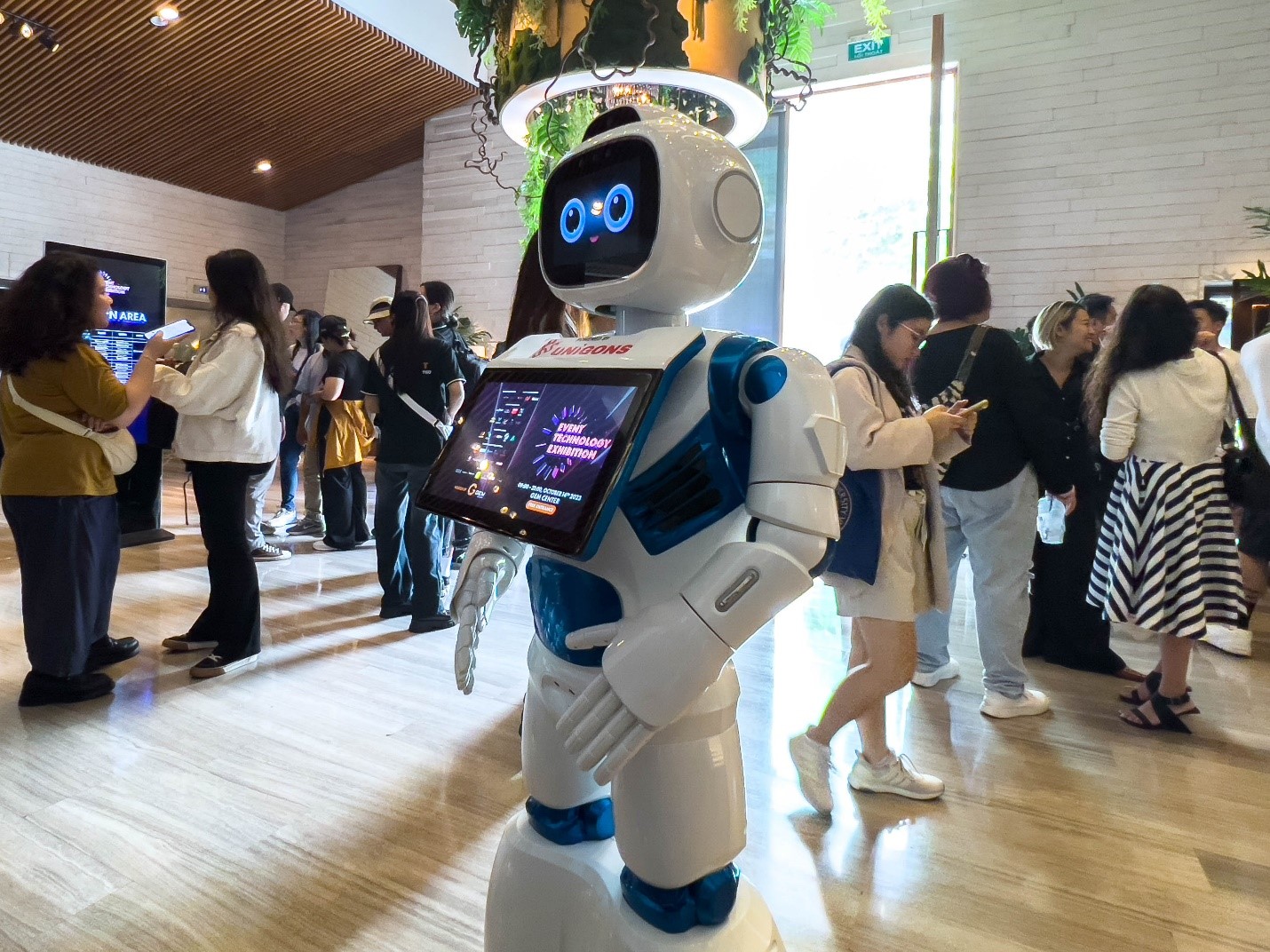 Thanks to these remarkable capabilities, Alta Software's technological innovations seamlessly assumed the role of event hosts, delivering captivating and groundbreaking experiences to attendees. The presence of these intelligent robots not only propelled the technological landscape into a more sophisticated realm but also kindled a wellspring of inspiration among those present.
Within the exhibition, attendees weren't merely spectators of cutting-edge scientific applications; they were immersed in extraordinary performances. The utilization of state-of-the-art projection systems and immersive sound technology crafted a grandeur that etched an unforgettable sensory encounter into their memories.
In synergy with the Event Technology Exhibition, Alta Software left an indelible mark through its ingenious robotic creations, replete with exceptional features. This represents a forward-looking solution, replete with a multitude of practical benefits for users. Amid the rapidly evolving Industry 4.0 era, intelligent robots are poised to become even more pervasive, evolving into an indispensable companions within the ever-advancing realm of technology.